The Project |

The Briefs
---
WHAT GOES BEYOND THE BOUNDARIES OF ARCHITECTURE?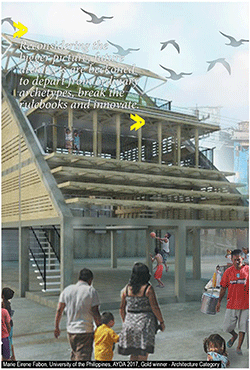 The growth in development and gentrification evolves faster than we can ever imagine. As the industry continues to demand for new design solutions and cutting-edge technology-driven schemes, the new creatives are challenged to think forward and challenge design boundaries
Reconsidering the bigger picture, future architects are beckoned to depart from ordinary archetypes, break the rulebooks and innovate. The building of the future is a communication tool that interacts with its surround, the vast community and the people. The language of architecture is now used to solve and resolve social, cultural, economical issues as we move forward
We constantly push ourselves to think critically for new solutions but most times, we have forgotten the values of being empathetic and sensitive to cultural needs. The people that we are designing for and the place we are designing at play a pivotal role to our approach in creating new design considerations –sustainably, environmentally and emotionally.
How can you inform the idea of forward-thinking as a problem-solving tool that challenges design boundaries? Through your design proposal, what are the values that you can derive through a critical analysis to better the quality of life, social issues and community development around you? Reconsidering
CAN YOU REDEFINE INTERIOR SPACES TO CREATE NEW DESIGN NARRATIVES?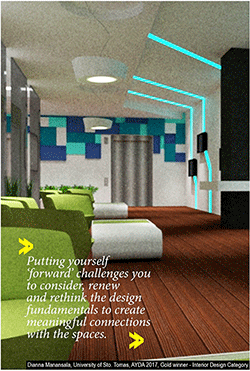 The notions of 'forward-thinking' and 'moving-forward' both narrate the need to be progressive with prevalent design movements. But what lies beyond is a new undertaking of ideas and interventions; how interior designers are able to push boundaries and design outside the perimeters of being 'ordinary'. Putting yourself 'forward' challenges you to reconsider, renew and rethink the design fundamentals to create meaningful connections with the spaces
As we continue to challenge the possible design boundaries, we call for upcoming interior designers to also humanise the principles of design. The ideas of comfort and the emotional approach express the way we live our daily life. And as we move forward, the thing that would define our lifestyle is a new form of sensibility that goes beyond our comfort zone.
And with story-telling taking a backseat, we now embrace the importance of place-making and story-doing. The people that we are designing for take precedence and all facets of living are being taken into consideration. The fissures in design barriers have opened a new ray of light - liberating spaces from its potential to thrive in all aspects of design.
In your design proposal, how do you synthesize functionality and emotions, sustainability and aesthetics into a living space? What is your definition of breaking boundaries and creating new interventions in the realms of commercial, hospitality, residential and institutional design? How do you emote a holistic experience for the people while maintaining a strong sense of novelty and originality? Putting
Design Concept Statement